April 22, 2021
Declined Business Loan Application? The Steps to Take Next
Due to this, if your application for a business loan was denied, it can be extremely disheartening. However, don't fret, because it's still possible to get approved for a business loan in the future. In this post, we'll explain what you can do if your small business loan application was denied. After taking these steps, you may be able to qualify for the financing your business requires.
7 Steps to Take If Your Business Loan Application Was Declined:
1. Determine Why Your Loan Application Were Denied
If your application for a business loan was rejected, it doesn't mean you can never apply for a loan again. Many business owners apply for a loan, only to get declined and have to apply again in the future. However, before you start the loan process again, you should ask the lender why your application was denied. Common reasons for getting declined after applying for a business loan include:
Collateral issues: In many cases, the lender will ask the applicant to submit collateral for a secured loan. If you can't afford to submit collateral, this could be the reason your application was declined.
Time in business: Some lenders aren't willing to extend credit to businesses with less than two years of operating history.
Debt to income ratio: If your business has a high debt to income ratio, you may need to pay down debt prior to applying for a loan amount. Lenders often don't want to lend to businesses with low cash flow due to outstanding debt.
Poor credit: If you have a low credit score, you might not have met the lenders requirements, thus your reason for getting declined. Before applying again, check your credit report to ensure that you meet the credit perquisites.
Hopefully, after speaking with your lender, you'll be able to fully understand why they had to decline your application. Once you understand the lender's requirements, wait until you meet all these standards before starting the loan application process again. That way, you can increase the chance that your loan application will be approved.
2. Improve Your Credit Scores
In addition to personal credit scores, lenders also evaluate business credit history when deciding whether to grant a loan. They do this because by reviewing your personal and business credit scores, they can get a clear picture of your finances. Studies show that many small business owners are 
unfamiliar with their scores
. Just like a personal FICO score, your business credit score rates your firm's credit based on factors like payment history. Improve it by applying for credit cards in the firm's name and working with vendors who report payments. Avoid funding your business through personal loans, which don't contribute to your business credit history.
3. Find Another Financing Lender
If your loan application was rejected by a bank, find a lender who will be more receptive. There are countless online lenders who are more willing to work with startups or small businesses than traditional lending institutions. They may even offer loan products better suited to your business's situation.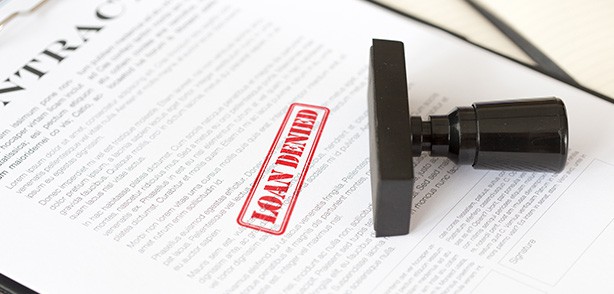 4. Apply for a Different Financing Option
If your business is struggling with working capital, a term loan may not be your best bet. You may find the lender is willing to provide you with a smaller line of revolving credit instead. Lines of credit are generally easier to qualify for than term loans given their short-term nature. Other loan products may also be easier to obtain. For example, you could leverage your firm's future credit card receipts to secure a 
merchant cash advance
.
5. Consider an SBA Loan
If you can prove that you have exhausted all other financing options, you may be eligible for help from the government. 
The SBA has several programs
 that supply entrepreneurs with funding. They partner with commercial banks, who act as a guarantor on SBA loans. However, owners should note that business credit scores still matter when seeking an SBA-backed loan. Typically, the SBA requires applicants to have least a 140 out of 300 score to qualify for a 7(A) loan.
6. Find Another Way
If you're unable to obtain funding from a reputable financial institution, it may be time to start looking for angel investors. Outside cash don't always come from lenders or financing institutions, either. Consider asking for loans from wealthy friends or family. They are more likely to trust you and could be willing to invest in your business, even if financial institutions aren't.
7. Take a Break from Applying
Sometimes, the best thing you can do is to wait for a certain length of time before applying again. If you were declined due to your time in business, this will enable you to meet this requirement next time. Or, if your monthly sales were too low, or you have a low credit score, you can focus on improving these numbers. Of course, we understand that your financing needs might be pressing. However, if you're struggling to qualify, taking a break from applying to work on improving your business may be your best bet.
Conclusion: If Your Business Loan Application Was Declined, Don't Get Discouraged
Remember, a declined business loan application isn't a death sentence. If your application for a 
business loan
 was declined, you can try obtaining a different loan product from the same lender. Or, you could seek alternative lenders, such as outside investors or online banks. Ultimately, you can improve your chances of getting approved by building your credit and improving your business plan. By growing your business and operating a financially responsible business, you can be confident that you'll receive financing eventually. At Fora Financial, we know that every business is different, which is why we provide flexible financing. If you'd like a free financing quote, please click the link below:
Editor's Note: This post was updated for accuracy and comprehensiveness in April 2021.