July 12, 2022
Our Guide to Applying for Veteran Business Loans
These businesses have proven to be quite successful and have generated more than 
one trillion dollars
 for the economy. However, with the help of veteran business loans, veterans can grow their companies even more.
If you're a veteran, how you apply for a 
small business loan
 is particularly important. Since veterans are provided specific federal support programs, you should consider your options carefully. In addition, how you go about choosing a loan will depend on numerous factors, such as your:
Business history

Credit score

Revenue

Overall financial health
In this guide, we'll explain everything you should know about small business loans for veterans, as well as the specific things to consider during the selection process.
Everything You Need to Know About Applying for a Veteran Business Loan:
1.

Understand the Challenges that Veteran-Owned Small Businesses Face
Despite the large number of small business owners that are veterans, overall, business ownership is down for veterans.
Since 2001, 
only 4.5 percent of service members
 have started their own businesses. In comparison, almost half of the veterans of World War II started their own businesses.
In a 
report by Syracuse University,
 researchers concluded that access to capital was one of the biggest challenges for veteran entrepreneurs. Most veteran business owners agreed that lack of access to capital limited their ability to grow. At least part of the reason is that the current G.I. bill, unlike the previous one, doesn't provide low-interest loans to 
start a veteran-owned business
.
Veteran-owned small businesses make up an essential part of the U.S. economy. Still, they also provide havens for returning veterans who benefit from working for someone that understands them. This makes it especially important for veterans to know their financing options.
2.

How to Select a Veteran Business Loan
As a veteran, you apply for a small business loan much like anyone else. For a traditional term loan, you'll need financial statements, a well-thought-out business plan, and business documentation.
If you're interested in applying for an SBA loan, we'll detail those steps below.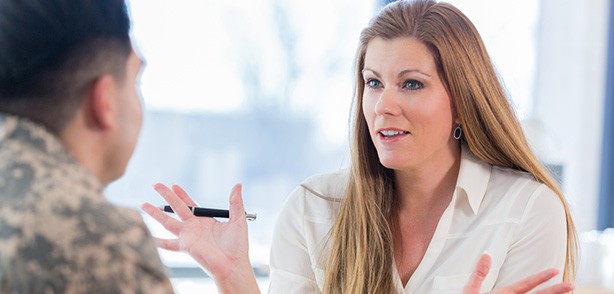 3.

Veteran Loan Options from the SBA
It's important to note that when you receive a loan backed by the SBA, the SBA won't be lending you the money. Instead, you borrow from a bank, financial institution, or online lender that provides SBA-backed loans.
Also, remember that qualifying for an SBA-backed loan will require good credit history and strong finances. SBA loans are meant for businesses that have exhausted other finance options. Therefore, if you haven't applied to other business entities, you likely won't qualify for their loan programs.
SBA.gov and 
The Office of Veterans Business Development
 provide an entrepreneurial training program for veterans. You can learn the basics of entrepreneurship through the program, like business financing. Plus, it includes tips on how to write a business plan.
The SBA also offers the SBA Veterans Advantage, which is only available to businesses that are 51 percent or more owned by an individual who is:
A veteran that's an active duty service member

Any veteran ( as long as they weren't dishonorably discharged)

Service-disabled veteran, reservist, or national guard member
It's also important to note that spouses of any veteran in the above categories qualify for this type of financing. In addition, widowed spouses of service members who died while in service or of a service-connected disability qualify for the program.
Overall, the SBA Veterans Advantage program makes it much easier (and affordable) for veterans to obtain loans.
4.
 How to Choose the Right Type of Veteran Business Financing
While it takes some time and resources, applying for a loan is usually straightforward. However, choosing a loan product that best fits your needs is trickier. Before you decide, you'll need to consider your business needs. When it's done right, small business financing will help you get what you need to take your business to the next level.
Before taking out a loan, you should decide how to spend the money.
For instance, do you need a safety net to protect your business? Are you investing in equipment to start your business? Do you want to grow your existing business? The answers to these questions will determine the type of loan that's the best fit for you.
You should also consider other types of financing, such as:
Business credit cards

Merchant cash advances

Invoice factoring

Equipment financing

Line of credit.
Many options could be a fit beside a traditional small business loan.
As you evaluate loan options, remember to consider your financial health. Regardless of the type of financing, poor credit history and weak financials will make it difficult to get a good deal on a small business loan with affordable interest rates. This is where alternate sources of business funding may come in handy until you've built yourself up to a point from which you can qualify for a traditional loan.
Conclusion: Veteran Business Financing is a Resource Worth Pursuing
About 30 percent of veteran small business owners use 
savings for capital investments
, and many of them would likely benefit from a small business loan. Of course, you don't pay interest on your savings, so that it may appear like the cheaper option for your company.
In the long run, relying on your savings alone can stunt your business's growth prospects.
If you look at it this way, you can see how even though you aren't paying interest on your savings, you're losing out on potential growth. So, what's more expensive; the interest on a small business loan or the lost opportunity to grow your business?
If the lost opportunity to grow your business is more expensive than the interest on your loan, then pursuing a business loan may be more affordable than you think.
Editor's Note:
 This post was updated for accuracy and comprehensiveness in July 2022.