May 25, 2022
What Are the Top Pros and Cons of Unsecured Business Loans?
In some cases, business owners will use collateral to secure a loan. This collateral is tied to the term loan, so if the small business owner defaults on this secured loan, they must hand over the collateral to the lender. Therefore, the collateral protects the working capital lender if they aren't repaid. However, 
unsecured business financing
 is also an option. Unsecured business loans don't require collateral, which is less risky for applicants. Common examples of unsecured financing are personal and student loans, but we'll focus on unsecured business loans in this post.
What Are the Pros and Cons of Unsecured Business Loans?
If you're interested in unsecured financing, it's essential to consider the pros and cons. Although there are notable benefits, there are also downsides to this type of loan. After all, a loan is a loan, and you should examine all of your financing options before making a decision. In this post, we'll explain the pros and cons of unsecured business loan options so that you can determine if it's the right financing option for you!
The Pros of Unsecured Business Loans:
1. Shorter Loan Application Process
The business loan application process can be intensive. Financial institutions want to ensure that they're lending to borrowers who can make their payments on time and ultimately repay their debts. As such, lenders thoroughly vet every
business loan application
. This is true for both secured and unsecured business loans and other financing options such as business lines of credit, merchant cash advances, and invoice financing. However, when collateral is submitted, the business lender must examine the collateral closely to determine its value, which can become time-consuming. With an unsecured business loan, the lender doesn't have to evaluate collateral and instead focuses on other factors, such as the business's credit report, monthly sales, and time in business. This streamlined application process often results in a faster funding process, with funds being distributed as soon as 24 hours from the application submission. Many businesses seeking financing need financing sooner rather than later, so unsecured business loans are usually a better option. Receiving additional financing by the next business day can be beneficial if you're in a crunch, so many business owners opt for this type of loan.
2. Collateral Isn't a Requirement
Many businesses 
lack collateral
. A startup, for example, may not have any valuable business assets to offer lenders as collateral. Therefore, this would make the startup ineligible for most types of secured business financing. However, with unsecured business loans, there's no collateral requirement. Instead, other considerations, such as business plans and market opportunities, are reviewed when qualifying a business. In many cases, startups and businesses lacking collateral can still meet the eligibility requirements for an unsecured business loan. Due to this, you should pursue unsecured options first if you fall into either category. Since you won't submit collateral, the lender may require a personal guarantee to approve you for an unsecured loan. This legal document states that if you can't pay back your loan, the lender will have legal rights to pursue your personal assets.
3. You Won't Risk Losing Collateral
A secured business loan is protected with specific assets. For example, if you take out a mortgage on an office, it'll be secured by the property. If you default, the lender would be able to take control of the property since it was submitted as collateral. With an unsecured business loan, the business loan lender would have to go to court to secure an order to seize any property. In some cases, a lender can seize property to recoup a loss on loan. However, courts may 
discharge the unsecured loan
 if the business owner files for bankruptcy. On the other hand, secured loans are rarely discharged through bankruptcy or other means. Usually, collateral tied to the loan is awarded to the lender.
The Cons of an Unsecured Business Loan:
1. Higher Interest Rates
Unsecured business loans are riskier for lenders. With this type of business loan, the lender has a clear path to recouping losses if your business fails to repay them because they can seize the collateral. With an unsecured business loan, there's no collateral. As a result, lenders will typically charge a higher interest rate on unsecured loans. If you're concerned about paying higher interest rates, it may make sense for your business to pursue a secured business loan instead.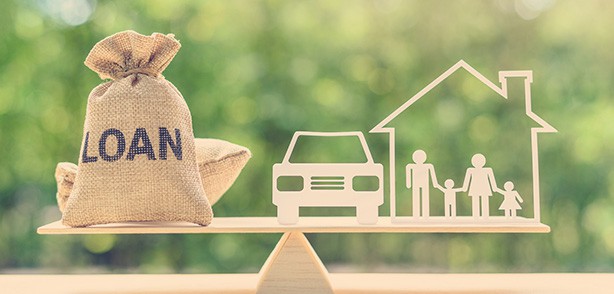 2. They Are Harder to Qualify For
Without collateral, lenders often look closely at certain aspects of your business, such as:
Your business credit score
Annual revenue
Financial statements
Business plans
Cash flow projections
The lender's goal is simple: minimize risk. Due to this, a business owner with a low business personal credit score will struggle to qualify for an unsecured business loan. Unfortunately, qualifying for an unsecured loan isn't likely if you own a new business or have a poor credit score. You may need to apply for a different type of financing, like a credit card, or wait to apply for an unsecured loan once you're in better financial standing.
3. Loan Amounts Are Often Smaller
Because of the increased risk, typical online lenders are often less willing to approve large amounts of money, so many unsecured loans come in small amounts. The collateral protects the business lender, so they're more comfortable approving secured loans in larger amounts. Unsecured financing can be a great resource if you need to borrow money in the short term, but you won't be able to make significant investments. For example, you probably won't be able to afford substantial investments such as:
Expansion projects
Purchasing equipment
Placing sizable inventory orders
Conclusion: Unsecured Business Loans Can Be a Viable Option
Any small business owner interested in additional working capital first needs to examine its current financial situation. In many cases, an unsecured business loan will make the most sense because of the streamlined approval process and lower risks for the borrower. However, in some cases, a secured business loan will better serve your business if you have a low credit score or don't own valuable collateral. In addition, if you're focusing on debt consolidation, it may be best to pay off your debt before applying. Consider your business's needs, and make your decision based on this! Do you have more questions about securing an unsecured business loan from an alternative lender? Feel free to ask them or any other business financing questions in the comment section below!
Editor's Note: This post was updated for accuracy and comprehensiveness in May 2022.