May 11, 2022
The Top Pros and Cons of Seeking Business Inventory Loans
Fortunately, 
inventory loans
 are among the many working capital options available if you need short-term cash to replenish low inventory. Unlike other types of loans, though, inventory financing is specifically designed to meet inventory needs.
However, inventory loans come with certain drawbacks, so they aren't the right business funding option for every entrepreneur. This blog post will review the pros and cons to help you understand the downsides and the 
benefits of an inventory loan
.
What Are the Pros of Business Inventory Loans?
1.
 You'll Receive a Short-Term Loan for Inventory Purchases
When you find yourself with low inventory but don't have the cash to replenish it, it may seem like there's no viable solution. After all, you can't generate sales without inventory, and without funds, you can't purchase inventory.
Luckily, an inventory loan helps you get out of that difficult spot. With your inventory financing, you can purchase products you sell as inventory and improve your business's sales moving forward.
In addition, to help you improve your inventory management, you could also use your loan to invest in a POS system with inventory management capabilities. A POS system can help you invest in the right stock, organize purchase orders, and handle other essential inventory documents in real-time.
Most inventory management system companies come with a free trial, so don't be afraid to test a few different options. To get started, check out popular inventory management options such as:
2.
 Business Owners Can Use the Loan to Expand Product Lines
With an inventory line of credit or loan, you don't have to focus on getting your inventory to an adequate level. Instead, you can use inventory loans to expand your product lines, which will enable you to increase sales channels. Due to this, an inventory loan gives you the flexibility to grow without draining your business's bank account.
3.
 The Financing Benefits Small to Medium-Sized Seasonal Businesses
According to QuickBooks
, inventory financing is often most suitable for small to medium-sized retailers.
However, many other businesses benefit from inventory financing, especially if they require inventory but don't have the credit history or capital to obtain a traditional small business loan.
In other words, if you can't get approved for a bank loan but need inventory, an inventory loan from an alternative lender may be the right choice for you.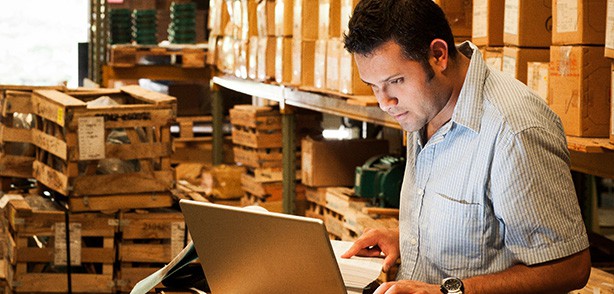 What Are the Cons of Business Inventory Loans?
1.
 Inventory Loans Can't Be Used for Other Business Financing Needs
As you may have guessed, inventory loans have clear usage restrictions and can only be spent on inventory investments. Due to this, inventory loans are very inflexible compared to other financing options such as a business line of credit. With a small business loan, line of credit, or merchant cash advance, you can typically use the funds for any business expense.
For example, you won't be allowed to use the funds to meet payroll or pay taxes with an inventory loan. Of course, if you only need the loan to purchase small business inventory, then restrictions on the use of funds won't be an issue.
2.

Inventory Loans are Relatively Short-Term
Inventory loans are generally paid off over a shorter period than a typical term loan because the term of most inventory loans will coincide with the lifespan of the inventory. Therefore, the loan balance will be repaid over a shorter period, resulting in larger monthly payments.
If you can't afford large monthly payments on top of other business expenses, taking out an inventory loan can strain your business's cash flow. However, if you budget responsibly and invest in suitable types of inventory, this shouldn't be a problem.
If you're concerned you won't have enough cash to make monthly payments, consider taking out a smaller loan. By doing this, you can still afford to invest in inventory but won't risk hurting your business's finances.
3.
 Less Suitable for Large Businesses
A larger business with the assets and track record to secure institutional-sized financing may be better off not using inventory loans. Most cash inventory loans provide only about $500,000. Of course, that may be plenty of cash for small or medium-sized businesses. However, a large company, such as Macy's or Walmart, needs considerable capital for inventory, and an inventory loan is typically not meant to provide that.
Conclusion: Inventory Financing Can Be A Flexible Solution
It's important to note that many different business loans are available to small business owners. So, before you start the loan application process, you should weigh this list of pros and cons.
In addition, you should consider your business needs, the online lender's interest rates and terms, and their requirements (most notably credit score and monthly financing prerequisites). By taking the time to conduct research, you'll be well-positioned to select the best funding option for your business.
Then, with all those factors in mind, you can make the best decision possible for the long-term health of your business.
Editor's Note:
 This post was updated for accuracy and comprehensiveness in May 2022.