November 08, 2021
Easy Business Loans: How to Qualify for No Hassle Financing
In fact, part of what stops many entrepreneurs from getting the business financing they need is the preconception that it's impossible. Or, they're intimated by the application process, and are concerned it will be too time consuming. In reality, you have numerous easy business financing options to choose from. Plus, there are steps you can take to improve your chances of getting a loan approval with no hassle in the future. In this post, we'll review how to select short-term business loans with lenient, fast approval processes. To wrap up, we'll discuss what you can start doing today to qualify for fast business loans more easily in the future.
Easy Small Business Loan Options
If you can't name three business funding options off the cuff, you should familiarize yourself with what's available to business owners. There are many kinds of small business loans that could be a good fit for your business's financial situation. In the next section, we'll cover five popular business financing options, plus explain how to qualify for each
business loan
.
1. Online Term Loans and Microloans
As a rule, online lenders have more lenient loan qualification criteria than credit unions or banks. Online lenders will also generally require less extensive documentation. All that said, this depends partially on the kind of loan you're seeking and your financial situation. The larger the loan amount and the worse your credit score is, the less likely you'll qualify with no hassle. If your credit is an issue, though, you could consider microloans from an online lender. Microloans are smaller loans, but they're generally the easiest to qualify for. Typically, the average SBA microloan is $13,000 but may be as much as $50,000. Whatever amount of loan you get, expect to be asked to provide (at least):
Personal and business tax returns
Financial statements from your business bank account
Business registration documents
Credit reports and references
Annual revenues
2. Business Line of Credit from an Online Lender
While not technically a loan, a line of credit from an online lender can be a relatively hassle-free source of financing. Lines of credit may be revolving or non-revolving. Though in either case, and with a good credit score, you can usually get approved for a line of credit in one to two business days. One way to make a line of credit even more hassle-free is to put up collateral. This enables you to take out what's called a secured line of credit. Secured lines of credit give the lender protection because they can take your collateral if you don't pay. This makes the line of credit riskier for you, but also easier to qualify for with minimal hassle. Just remember that you'll need to provide the same documentation (listed above) for a line credit that you would for an online loan.
3. Ink Business Cash® Credit Card
While it's also not a loan, the 
Ink Business Cash
 credit card can quickly unlock up to $25,0000 in funds for your business. This card, which is issued by Chase, comes with a 12-month, zero-percent APR intro period. That means, for the 12 months after you open your account, you pay no interest. Plus, it comes with other notable benefits for your business, like cash-back rewards. After the no-interest introductory period, any balance you owe will be subject to a variable APR 13.24 to 19.24 percent. Therefore, if you need cash quickly for a short-term expense, this card is a great option. According to WalletHub, you'll need a credit score of 
at least 700 to qualify.
Finally, depending on your score, your approved limit will vary between a minimum of $3000 up to $25,000.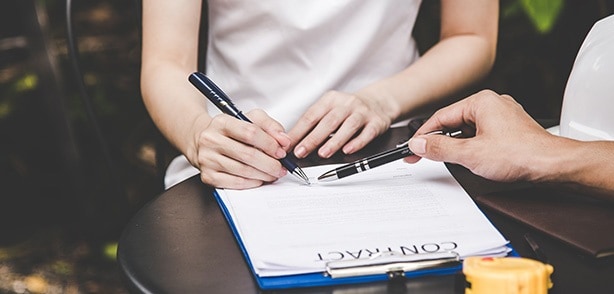 4. Invoice Financing
Not to be confused with invoice factoring, Invoice financing is a hassle-free option for small businesses that don't have the credit score to qualify for other loans. This is because, with invoice financing, the lender takes your outstanding invoices as collateral. In exchange for your outstanding invoices, the lender provides funds based on a given percentage of the total value of your invoices. The structure of invoice financing allows lenders to avoid relying as heavily on your credit score. As a result, so long as you have reliable, paying customers, invoice financing is relatively easy to obtain.
5. Equipment Loans
Looking for a quick way to source funds for an equipment purchase? Equipment financing may be the answer for you. With equipment financing, you work with a traditional lender who provides funds for you to purchase equipment. Once you've reached an agreement with the lender, you can only buy the equipment the lender agreed to finance you for. The equipment you purchase then serves as your collateral. Therefore, if you have cash flow issues or want to invest in other areas of your business, an equipment loan is probably not the right option for you. Since the equipment will be your collateral, equipment financing is typically easier to qualify for. Still, to get the best interest rates and quickest approvals on equipment financing, it helps to have a decent credit score.
Conclusion: An Easy Business Financing Process Is Possible
There are three simple things you can do today to reduce the hassle associated with taking out a business loan: 1. Get your loan application documents and business plan in order 2. Work on improving your personal and business credit scores 3. Understand the business financing options that are available to you In almost all cases, business loan lenders will require financial information such as tax returns, bank account statements, and other documents. Organizing these documents now will save you significant time when you're ready to submit them to a lender. In terms of building your credit score, it's not nearly as hard as you think. Form healthy financial habits, pay your bills on-time, and avoid opening and closing bank accounts often. If you follow these best practices, you can be confident in your ability to improve your credit. Finally, make sure you're familiar with the loan options outlined above. For more extensive information on each of these financing options, here are a few helpful resources: