June 24, 2021
6 Business Financing Options for Immigrants
Fortunately, there are other types of business financing for immigrants. From SBA loans and grants to crowdfunding and credit cards, you can find the financing you need to start or grow your business by reading this post.
Top Funding Options for Immigrant Small Business Owners:
1. SBA Loans
Small Business Administration (SBA) loans are among the most affordable small business loans options you can find, but there are downsides. Specifically, to obtain business loan products for immigrants backed by the SBA, you'll have to complete an extensive amount of paperwork. Although the SBA supports immigrant entrepreneurship, there are detailed eligibility rules that apply to immigrants starting on page 110 of 
this document.
Typically, if you have legal permanent resident status or are a working visa holder, you're eligible for an SBA loan. Still, you should take time to familiarize yourself with the eligibility rules to avoid any delays in the application process.
2. Government Grants
Two programs, called the 
Wilson-Fish
 program and the 
Microenterprise Development Program
, are both administered by the Office of Refugee Resettlement to offer financial assistance to refugees. If you're a refugee, it's worth considering these business grants. However, you don't have to be a refugee to get approved for a grant from the government. Non-refugees can find grants at Grants.gov by checking the website regularly for grants that fit their needs. Make sure that if you do apply for a grant that you do a thorough job with your application, as competition for grants is fierce. If neither of these options are available, take time to conduct research on business grants for immigrants. In some cases, your state government or other agencies may offer grants specifically for immigrants.
3. Friends and Family
If you're comfortable doing so, ask your friends and family if they'll help fund your business. With their financial support, you can get your business off the ground, and will hopefully become profitable in no-time.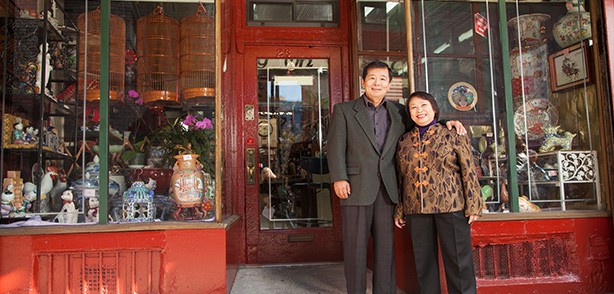 4. Business Credit Cards
If used wisely, business credit cards can help provide the short-term financing you need to get your business up and running. If you review your credit report prior to applying and have a solid credit score, you shouldn't have much trouble getting approved. It's important to use credit wisely and avoid piling up debt, especially if the card's interest rate is high. Consider looking for a card that offers a no-interest introductory period, so you have time to earn the funds you need to make your payments on-time.
5. Crowdfunding
Successful 
crowdfunding campaigns
 can help you successfully start your business, sometimes in bigger ways than you could have anticipated. For example, Hiral Sanghavi, an immigrant from India raised $11.5 million with two crowdfunding campaigns, one on 
Kickstarter
 and another on 
Indiegogo.
 On Kickstarter, Indiegogo, or any other crowdfunding platform, you can raise money for your innovative ideas. However, you shouldn't necessarily expect to make as much as Sanghavi. Between Kickstarter and Fundable — another crowdfunding platform — the average amount raised is between $7000 and $10,000, far less than Sanghavi's millions. Still, this can be a strong financing option for immigrants who want to try a low-risk option and avoid giving up equity in their business.
6. Microloans or Short-Term Business Loans
Even if you have an otherwise stellar financial background, your lack of credit history as an immigrant can make it hard to obtain traditional loans. However, 
short-term loans
 or 
microloans
 can be an ideal stop-gap measure. Since these loans are less risky to the lender, they have less stringent application requirements. The downside of receiving a microloan is that the loan amount generally caps out around $50,000. In addition, a short-term loan will have relatively high payments since you'll repay it over a shorter period, which can cause cash flow issues.
Conclusion: Business Loans for Immigrant Owned Firms Are Available
Unfortunately, due to cultural bias and the practical realities of building credit, obtaining funding as an immigrant can be difficult. Not to mention, you'll likely be faced with more paperwork than other applicants. Still, as successful immigrant entrepreneurs and this post have shown, you do have funding options. Explore each one these options and understand the differences between them before making any decisions. Ultimately, only you or a trusted associate that's familiar with your business plan can decide which working capital option is best for you. Also, consider your business development, how much financing you require, and the loan application process prior to deciding.
Editor's Note: This post was updated for accuracy and comprehensiveness in June 2021.