February 16, 2021
SBA Loan Applications: The Approval Process Explained
Some believe they can get grant money from the government. However, these loan programs are very competitive, especially right now as many businesses are struggling due to the COVID-19 pandemic. It's important to note that The Small Business Administration (SBA) has loan money available but doesn't provide this money directly to businesses. It works with SBA preferred lenders, which is an important distinction. If you decide to pursue SBA lending, the application process has several components to it. This article will help you learn more about the SBA loan process.
An Overview of the SBA Loan Application Process
To start the SBA loan application, you must find a lending institution that partners with the SBA. Ask a bank employee if there's a qualified lender on staff. If not, it's possible they may know someone in your community who's qualified. The SBA has several programs, which can make the process confusing. It's important to choose the right program as you don't want to waste time during the application process. Prepare all the required documentation before approaching a lender, as this can expedite the process. It also shows the lender that you did your homework and are serious about your loan request. The SBA guarantees most programs, which reduces the lender's risk. However, it's not a guarantee for 100% of the loan, which means the lender will still assume some risk. In addition, you may be required to put up collateral for the loan. This could be assets in the business or even personal assets and guarantees. Traditional banks are often the lenders approved by the SBA, so the approval will likely take some time.
The SBA Loan Application Process:
When you learn how to apply for an SBA loan, you can increase the odds of approval. You'll show the lender that you are serious about obtaining loan funding for your business. To start, you should understand the loan programs and which are right for your business. Then, determine how to find a qualified SBA lender so you can get approved for the right
small business loan
.
1. Select The Right Loan Program
The SBA offers some
grant money
 for select businesses, however, only particular types of businesses are eligible. The likelihood of obtaining capital with this option is small, but it's still worth researching. The following highlights the popular loan programs available via SBA lenders:
2. Determine If You Qualify
While the objective of the SBA is to help support businesses, the organization doesn't simply hand out money to business owners. It has eligibility requirements that lenders will follow. Plus, lenders have their own set of eligibility requirements and aren't required to approve SBA loans. The SBA specifies that if businesses can find funding sources, they should explore those options before applying for an SBA loan. Therefore, if your lender feels your business can obtain capital by alternative means, you may not be approved. Lenders or the SBA may ask to see proof of denials from other lenders. The SBA doesn't specify any specific personal credit score that applicants need to have to be eligible. Even though the SBA guarantees many loans, lenders still bear some of the risks. These lenders will likely require that your credit rating is good to excellent.
3. Select a Small Business Lender
Most likely, you've established a relationship with a few bankers in your community. To start, you should ask if they're approved for SBA lending. If your bankers aren't approved, ask if they know of any lenders that may be qualified. The SBA website has a function to help you locate lenders who are qualified. It's a good idea to go through this process because there are scams targeting small business owners relating to SBA loans. When using the SBA website to find lenders, you'll be asked for your contact information. Unfortunately, you'll have to wait for a response from the SBA. When you locate a lender, contact them to set up an appointment. Before the interview, you should compile necessary paperwork and read about the lender's eligibility requirements. If you can find a lender that works in your industry, that may help you in the SBA loan approval process. This lender may know what's needed to get your business loan closing finalized.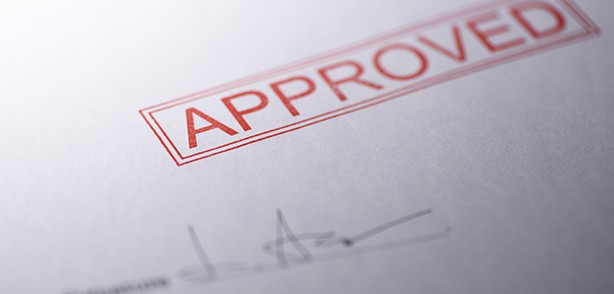 4. Submit Your Completed SBA Loan Application
Lenders will evaluate your loan application to see if you'll qualify for an SBA loan. However, the application still requires approval from the SBA. After all, the loans are guaranteed by the SBA, so they want to be confident that your business can responsibly handle the repayment terms. The SBA website has a 
secure submission process
 that you can send the application and supporting documentation. Here's an abbreviated SBA loan requirement checklist:
Business Plan
Amount of Loan
How It Will Be Used
Credit History
Financial Projections
Collateral
Industry Experience
Finder.com has a detailed
step-by-step guide
 to help small business owners understand the forms and requirements of the SBA lending program. In addition, the SBA has guides and
videos
 to help you understand what they'll need from you to obtain funding.
5. Work With Your Lender to Complete Closing Process
Approved SBA lenders have learned what's needed to get approved for these loan terms. Be sure to ask them questions about the steps involved and what you can do to increase your chances of getting approved. Lenders have incentives to lend as the interest rates they receive is how they make money. Therefore, they'll be willing to work with you if they feel you have a chance of getting approved for funding. The SBA will require you or your lender to submit a 
closing package
. By understanding this process, you'll satisfy the requirements. The lender you work with can explain the process and answer your questions. SBA-approved lenders can also assess your situation and determine whether you're a good fit for an SBA loan. This assessment can help reduce wasting time for both you and the lender.
Conclusion: The SBA Loan Application Process Isn't Scary
Many business owners fear the SBA loan application process because they've heard that it is too rigorous and time-consuming. However, the SBA exists to help spur business in the U.S., so don't be afraid of this funding option. It isn't an easy approval process, but it isn't impossible to get approved for funding either. The benefits of receiving this type of loan can outweigh the process. For instance, the interest rates for this loan type tend to be attractive. It's likely that you'll need to go through similar procedures for other loan types. This means that you have nothing to lose by pursuing an SBA loan.
At Fora Financial, we have several loan options available to help you get the funding you need for your business. You can get a
free quote
to obtain the capital to grow your business.
[cta-freequote]
Editor's Note:
This post was updated for accuracy and comprehensiveness in February 2021.