June 28, 2019
Review: PayPal Business Debit MasterCard
Since the Great Recession of 2007-2008, 
an increasing number of businesses
 have shifted from using
credit cards to debit cards
. In fact, despite GDP growth rates hovering around 2 percent in recent years, debit card usage has been increasing by roughly 7.1 percent annually. Over the past decade, the debit card industry has become significantly more dynamic. PayPal – a company which reported nearly $4 billion in revenue in the first quarter of 2018 – offers a unique
debit card option
that can be used for a variety of business costs. In this post, we'll review PayPal's Business Debit MasterCard and explain how this card can be used to help your business.
Is a PayPal Business Debit Card Right for Your Business?
Overview of the PayPal Business Debit MasterCard:
The PayPal Business Debit Card is made possible through a partnership with MasterCard. Using this card, your business can pay for a variety of goods and services directly from your PayPal account. The card is popular because it can be used in stores as well as through online retailers. In addition, anywhere that MasterCard is accepted will also accept the PayPal Business Debit Card. With this card, you can withdraw cash from your PayPal account from ATMs worldwide.
How Can You Qualify for This Card?
Since the PayPal Business Debit Card uses cash that you already own – rather than using credit to be paid back in the future – qualifying for the card is incredibly easy. If you have a verified PayPal business account without any holds or restrictions, then qualification should be guaranteed. You can also link your PayPal account directly to your bank account to allocate capital wherever it's needed.
How Can You Apply for the PayPal Business Debit Card?
The application process for the PayPal Business Debit Card is relatively straightforward. To apply, you simply need to create an active PayPal account, 
visit their website
, and click the blue button that says, "Request Your Debit Card." The company will then ask for standard financial information. You'll also have the option to enroll in the cash back program once the debit card has been properly activated.
What Are the Benefits of This Card?
Cash Back Rewards:
If you want to earn cash with this card, there's an optional cash back program that will allow you to receive unlimited one percent cash back on your business's eligible purchases.
Other Benefits:
Another benefit of the card is that you won't need to wait to transfer money from your PayPal account to your bank account. This significantly expedites the financial decision-making process.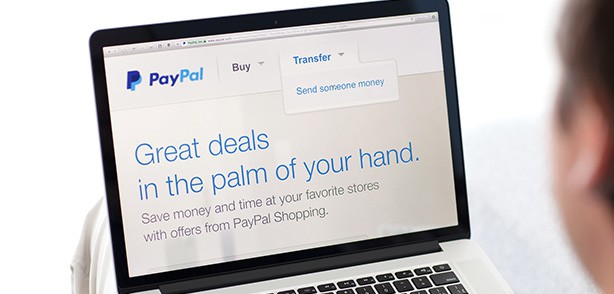 What Are the Fees and Limitations?
One of the most popular features of the PayPal Business Debit Card is that there's no annual fee. However, there are still some fees that may apply to certain users. These fees will be specified in the cardholder agreement. They may include a $1.50 ATM withdrawal fee, a $3.00 over the counter withdrawal fee, and a one percent foreign transaction fee. The standard daily limits for the card are $3,000 for purchases and $400 for cash withdrawals.
How Can You Use This Card?
There are several ways that your business can use the PayPal Business Debit Card. For example, you can pay for supplies, equipment, utility bills, and rent payments, just to name a few examples. In addition, you can also easily make payments to vendors or part-time employees who have an active PayPal account. Because setting up a PayPal account is free and easy to do, this may be an excellent way for your business to cut out certain overhead expenses.
Other PayPal Financing Options:
In addition to the debit card product, PayPal offers some other business financing options. Keep reading to learn more about applying for PayPal working capital products:
PayPal Business Loan
PayPal offers term loan amounts ranging from $5,000 to $500,000. To qualify, for their small business loans, you'll need to be operational for at least 9 months and earn more than $42,000 in annual revenue. Applying won't impact your credit score, but you should review their qualifications prior to proceeding.
PayPal Working Capital
Based on your PayPal account, you might qualify for this financing option. This loan offer ranges from $1,000 to $125,000. Preferably, you should have a PayPal account for at least 90 days and have processed more than 15,000 through PayPal within the past year. You'll repay this financing with a portion of your PayPal sales. Like the business loan option, checking to see if you'll qualify for this product shouldn't affect your credit scores.
Conclusion: Consider PayPal's Various Financing Products
Overall, the PayPal Business Debit Card can offer business owners several different benefits. Since there is 
no annual fee
, the card is generally categorized as a low-commitment payment option, which can make it an asset to your business. Do you use the PayPal Business Debit Card? Tell us about your experience in the comment section below!
Editor's Note:
This post was updated for accuracy and comprehensiveness in June 2019.