January 14, 2020
Fora Financial's Guide To The Best Business Bank Accounts
In some cases, even the best business bank account options fall to the wayside. Often, this is due to an influx in online-only personal account options. However, many business bank account options come with numerous surprising advantages.
Much like a business credit card, business checking and savings accounts provide useful features, focused on business owners' needs.
Are you looking for more business advice? Check out our newsletter, with regular tips, tricks, and tactics for small business owners to take advantage of.
[cta-newsletter]
The Pros of Business Bank Accounts for Small Businesses
While you aren't required to have a business bank account, they provide ample advantages over conventional bank account options. Some of those advantages include:
Small business accounting records can be properly organized with business bank accounts. Having two accounts keeps business and personal transactions separate, including a separate statement.

Separate business bank accounts also make things far simpler come tax season. With different accounts, business transactions are easily denoted compared to personal expenses.

A business bank account allows you to connect to credit card processors. Accepting credit cards is one of the most effective ways to improve revenue and cash flow in your small business.

While you run your business, your employees can do some administrative banking duties with a small business bank account. This gives you the freedom to focus more time on generating revenue.
It doesn't matter if you've recently opened a business or are an established small business operation. Looking professional is extremely important. Paying vendors and suppliers with checks bearing your name and information is a faux pas.
Our Picks For The Best Business Bank Account Options
To assist in locating the most effective bank account option, we've performed extensive research into the available options. Below, we have identified the best business bank accounts for a variety of factors.
Some of the factors we accounted for included rewards systems, fees, APY, and interest rates. However, we also made sure to check things like customer service, cash availability, and how accounts compared to one another.
In the end, we're left with a complete view of the landscape of the best bank for business account options. Some accounts stood out well above the others. We've outlined those below.
Axos Bank Business Interest Checking: Best Overall Choice
If you don't require physical branch locations for your bank, Axos Bank's
Business Interest Checking
is an appealing option. This bank account provides the perfect combination of interest bearing and liquidity. Often, with business checking accounts, it's one or the other.
The interest rates for the Axos Bank Business Interest Checking account are nothing to sneeze at, either. For balances below $5 million, the APY is 0.80 percent. For balances above $5 million, the true APY isn't published but is likely higher.
Other notable features of this business bank account include:
Account owners receive 50 free actions monthly (debits, credits, or deposits), then a 50-cent fee for each action after 50.

The minimum opening deposit for new accounts is a surprisingly low $100. This makes it an excellent option for small businesses without large-scale cash flow.

Maintaining an average daily balance of $5,000 waives any kind of monthly fee. Balances below this only incur a maintenance fee of $10 per month.
This bank account also includes free checks, statements, bill pay, and unlimited ATM fee reimbursements. Due to these benefits, it's clear that this bank account is a great choice.
First Bank Business Essentials Checking: Best Rewards System
Small business owners living in and around North and South Carolina can benefit from the
First Bank Business Essentials Checking
account. This account provides some of the best rewards of any business checking account available.
The interest rates of the First Bank Business Essentials Checking account aren't listed and are likely rather low. However, this business bank account comes with a robust rewards system with First Bank's
One Rewards
program. With One Rewards, account owners earn the equivalent of over 0.5 percent cash back on all card purchases.
Note: If you're looking for substantial cash back rewards, you can compound these rewards with a high-value business credit card. See our favorite options here:
This account has no monthly fee when maintaining an average daily balance of $1,000. Balances below this only incur a maintenance fee of $10 per month. Other features of the First Bank Business Essentials Checking account include:
Two hundred fifty free transactions monthly, and up to $10,000 cash deposits with no charge.

Free online bill pay, digital and phone banking, statements, and direct deposit.

Unlimited free use of the massive CashPoints ATM network.

The rewards of a big bank with the customer service of a small credit union.
BBVA Compass Business Connect Checking: Lowest Bank Fees
Are you on the hunt for the best small business bank account, that is also light on fees? If so, look no further than the
BBVA Compass Business Checking Account
. These accounts offer a no-fee structure that is perfect for small businesses on a budget.
All bank accounts through BBVA Compass include both mobile and online banking, as well as the standard FDIC insurance. In addition, account owners have free access to both branded BBVA Compass ATMs and the Allpoint ATM network.
Accounts with BBVA Compass, including their business checking accounts, require $100 minimum deposits to open. In addition, a permanent residence in a state serviced by BBVA Compass is also needed.
Click here
for a list of BBVA branches.
A perfect option for new business owners, BBVA Compass' ClearConnect brand of business checking accounts has zero monthly fees, period.
Also, while processed checks are limited to five, and in-bank withdrawals and deposits are limited to two, all other business transactions are unlimited. In addition, they're free.
However, it should be noted that this account has a relatively low cash processing limit compared to next-tier BBVA accounts. This makes it not the ideal option for small businesses that deal in cash on a large scale.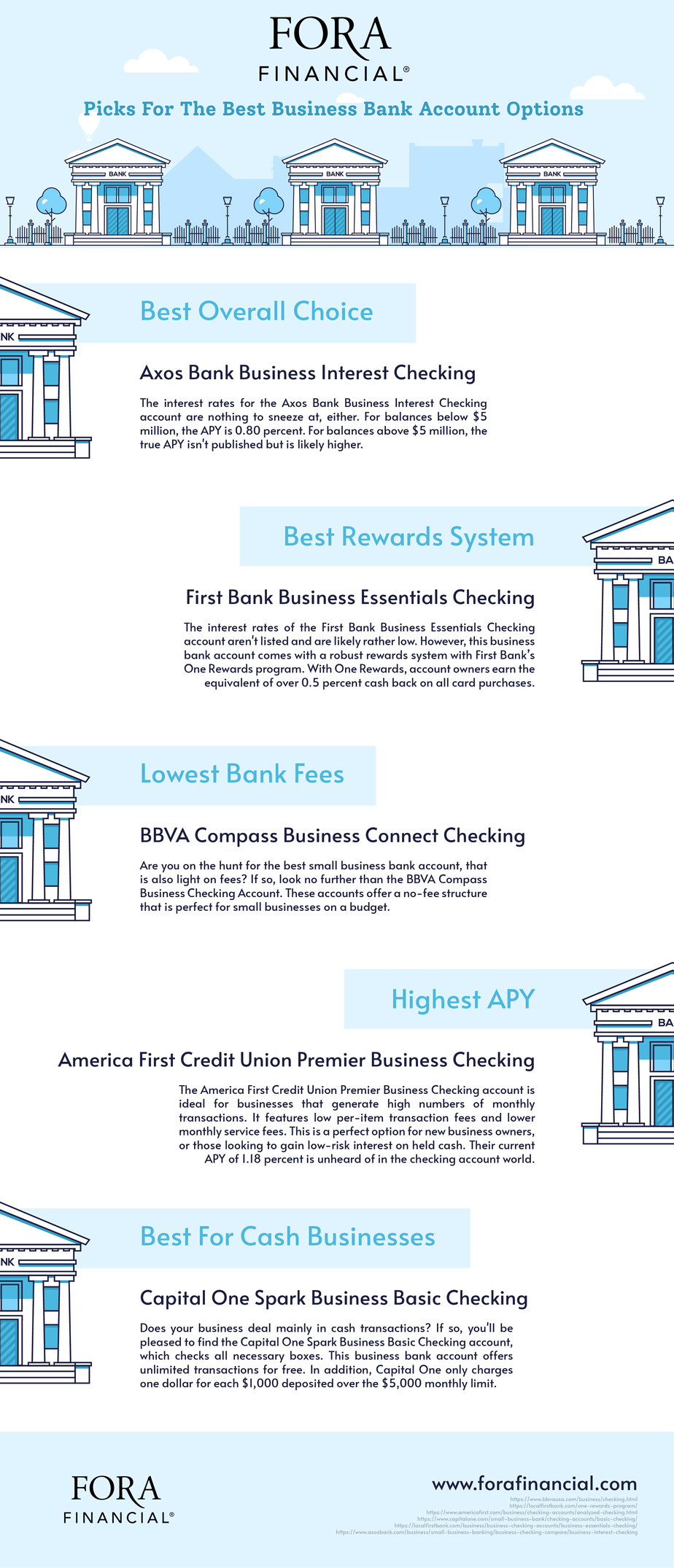 America First Credit Union Premier Business Checking: Highest APY
The
America First Credit Union Premier Business Checking
account is ideal for businesses that generate high numbers of monthly transactions. It features low per-item transaction fees and lower monthly service fees.
Fees with this business bank account are:
15 cents per deposit made

15 cents per written check

5 cents per check within a deposit

$8 monthly maintenance fee
However, these fees are quickly offset with earnings credits based on the amount of money held inside the checking account. This is a perfect option for new business owners, or those looking to gain low-risk interest on held cash. Their current APY of 1.18 percent is unheard of in the checking account world.
Capital One Spark Business Basic Checking: Best For Cash Businesses
Does your business deal mainly in cash transactions? If so, you'll be pleased to find the
Capital One Spark Business Basic Checking
account, which checks all necessary boxes. Capital One touts this account as offering "momentum to build on your legacy." 
Note
: If you're a Capital One Spark fan, we also have extensive reviews for the following business credit cards:
Many people aren't aware that most banks for small businesses charge fees for high transaction volumes. This includes both debit card purchases and cash deposits. 
While this doesn't factor in many companies, cash businesses need bank accounts with high limits and low overage costs. This is where the Capital One Spark Business Basic Checking account comes into play.
This business bank account offers unlimited transactions for free. In addition, Capital One only charges one dollar for each $1,000 deposited over the $5,000 monthly limit. While the account does have a $15 monthly fee, this can be avoided by meeting their daily $2,000 minimum balance requirement.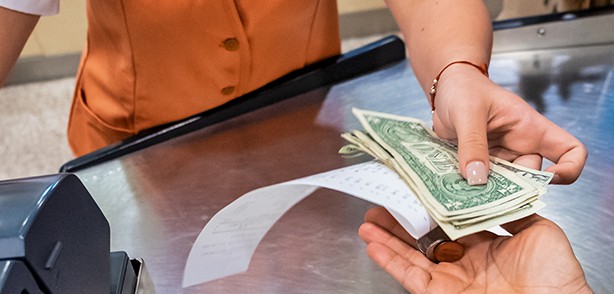 Business Bank Accounts Make Things Official
There are many reasons to look into a good-quality business bank account to protect your business's finances. However, wading through the sea of account options can be frustrating and confusing. 
We hope that our breakdown of small business bank account options, as well as why they are essential, was helpful. A business bank account serves to make things official. With plenty of great options, there's no reason to not have one as an owner of a growing small business.
Looking for a stellar way to fund that fancy new business bank account? Fora Financial offers several business funding options to fit any need. Fill out the free quote form below for more information!
[cta-freequote]