October 20, 2021
How to Secure Disaster Relief Options for Small Businesses
Even if you're lucky enough to have avoided devastation, you should still research disaster assistance options. By being prepared prior to an emergency, you can better protect your business's financial future. In this post, we've compiled five tips for small businesses pursuing disaster relief. Whether your business has already experienced the devastation of hurricanes, or you simply want to be prepared for the future, these tips will benefit you.
How to Pursue Disaster Relief Options for Small Business Owners
1. Research SBA Disaster Loans
Hurricane relief for businesses is provided by the federal government through many avenues. However, the Small Business Administration 
(SBA) disaster loans
are the most relevant to small business owners.
Usage: 
The SBA offers loan amounts to business owners coping from losses caused by natural disasters that aren't fully covered by insurance. If you apply for the SBA disaster loan program, you could receive up to $2 million for the following expenses:
Damaged or destroyed real estate
Inventory
Machinery
Equipment
How to Qualify: 
You'll need to confirm your eligibility, but if your business is in a declared disaster area, you'll probably be eligible for a 
recovery loan
.
How to Apply: 
If you've been affected by recent hurricanes, you can find information about applying for an SBA disaster loan 
on the SBA website.
 Apply online, then check your business loan application status in their helpful portal. If you'd like in-person assistance, contact the 
SBA's Disaster Assistance Customer Service Center
. They can answer questions about the application, or help you find your local SBA center.
How the SBA Has Helped Small Businesses:
The SBA offers financing solutions for businesses trying to survive tough times. Here are some of the ways they've been able to help business owners after large storms.
After Hurricane Katrina, Rita, and Wilma, the SBA approved $10.9 billion in disaster loans for small businesses.
The SBA loaned out $2.5 billion for disaster recovery after Hurricane Sandy. The approval rate for loans after Katrina, Rita and Wilma was 45 percent. And for Sandy, the approval rate was 53 percent.
In 2018, Hurricane Florence affected businesses throughout North Carolina and South Carolina. Less than 7 weeks after the storm, the SBA provided more than 7,000 disaster loans.
2. Explore Economic Injury Disaster Loans (EIDL)
In some cases, your business may qualify for the SBA's EIDL program. To qualify for this program, you must be able to prove that:
You own a small business, agriculture cooperative, or non-profit organization
Your business has suffered significant economic injury and is in a declared disaster area
You require financial assistance to afford operating expenses
If your business is in a declared disaster zone and has been financially affected by a hurricane or other natural disaster, it's likely that the SBA can help your business. In addition, the
EIDL program
is one of the SBA's coronavirus response options. Because many businesses suffered financial loss due to the pandemic, the SBA is providing these loans to affected business owners.
3. Consider Mortgage Payment Relief
Everyone needs a roof over their head, and, sadly, hurricanes greatly affect homeowners and renters. Taking care of your home should come first and getting help with that can make or break your business. The 
Department of Housing and Urban Development
, or FHA, in many cases, will delay foreclosure, waive late fees and even allow you to defer mortgage payments. For borrowers with non-FHA loans, all is not lost. The FHA recommends that you contact your mortgage service provider as soon as possible to explain your situation. Often, the lender will be willing to work with you to figure something out, especially in a large-scale event like Hurricane Harvey, Irma or Maria. Understandably, you must take care of your home before you can get your business up-and-running. Hopefully, with these resources, both will be possible.
4. Apply for FEMA Financial Assistance
While it's not strictly meant as disaster relief for businesses, 
FEMA grants
 can help you if you're in a pinch due to natural disasters. FEMA pays out cash grants to help disaster victims with necessities like medicine and housing. Especially if you run your business out of your home, this can be extremely helpful.
5. Devise a Disaster Response Plan
Nationwide, a national insurance company conducted a survey of small businesses in late 2015. They found that 75 percent of small business owners 
didn't have a disaster recovery plan
. And, according to the Insurance Institute for Business & Home Safety, 25 percent of small business do not reopen after a major disaster. No entrepreneur would start their business without having at least some type of a plan. Yet, most small business owners don't have a plan in place that could potentially save their business. To start, check out free resources published by The National Fire Protection Agency (NFPA). 
On their website
, you can find a variety of information related to emergency preparedness. This will help you make a reliable disaster recovery plan for your business.
6. Backup Important Information
Backing up your business information doesn't cost much, and it can save you significant time and money in the event of a disaster. With affordable, secure 
digital storage
 now available, there's really no excuse to not have information backed up. Invoices, tax information, contracts, and other important documents should all be digitally stored in one form or another. 
Google Drive
, 
Dropbox
, and 
Box
 can all work as a business information repository.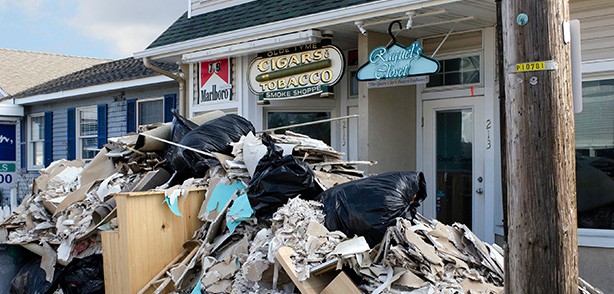 Next Steps: Be Prepared
Don't procrastinate on making emergency preparations for your small business. Even if you believe that your business won't be affected by a natural disaster, you never know what could happen. Do you have any other disaster relief tips for business owners? If so, share your suggestions with us in the comment section below.
Editor's Note: This post was updated for accuracy and comprehensiveness in October 2021.