January 30, 2020
The Importance of Community Involvement in Growing Business
Community involvement
is an easy and effective way to increase brand awareness, establish a positive reputation, and grow your business. Plus, it allows you to establish meaningful connections and give back to those in need. In this post, we'll explain what community involvement is and how you can use it to your advantage.
What is Community Involvement?
Community involvement is the power to positively impact the community in which you operate. There are numerous ways you can participate in community service. You may make financial donations on behalf of your organization. Or, you could host employee volunteer days by partnering with a non-profit. Here are a few examples of community involvement programs:
Asurion Hosts a Volunteer Week: Each year, Asurion's Week of Compassion allows employees to volunteer their time to support causes. Last year, about 200 employees participated in volunteer opportunities at six non-profits in the local area.
SmartBear Raises Money for Breast Cancer: SmartBear employees hosted an in-office event where they offered manicures to locals in the community in an effort to raise money for breast cancer research.
Affirm Arranges Regular Volunteer Events: The volunteer group of employees at Affirm meet frequently to set up events to support their community. They've helped the company host food drives, mentor children, and create kits for local fire victims.
Why Is Community Involvement Important For Your Business?
Community involvement can serve as an invaluable platform for you to promote your products and services. It can also promote your company values. When you engage in community involvement on a regular basis, you foster a positive workplace culture and build strong relationships with your local community. In addition, you support people in need and change lives for the better. If you want to stand out among competitors, community involvement is the way to go.
The Benefits of Community Involvement
There are essentially no drawbacks of participating in community involvement. While you and your employees may have to give up some time and money, the rewards will be worthwhile. Here's a deeper dive into the many benefits of giving back to the community.
1. Increasing the Awareness of your Brand
Brand awareness
refers to how familiar customers are with your brand. For instance, if someone says they need Windex, you know they're referring to glass cleaner. That's because Windex has developed great brand awareness. While brand awareness is vital for all businesses, it's particularly important for startups. After all, if people don't know about your business, they probably won't buy from it. When your employees support the local community, people learn about your business. Even if they aren't your target customers, they may mention your business to others. For example, let's say your florist business hosts a fundraising event and hundreds of people in your community attend. They see and hear your company name. Then, an attendee speaks to their friend who needs a florist. They recommend you to their friend because they respect your values. These types of situations can occur often if you participate in community events. Remember that the more people talk about you, the more likely you are to attract new customers.
2. Cultivating Trust In Your Operations
Customers won't make purchases from your business unless they trust it. This is particularly true in today's increasingly competitive marketplace. If a customer doesn't have a reason to
trust your brand
, they may buy from a competitor instead. So, how can you cultivate trust in your community? You can provide exceptional customer service, respond to customer reviews, improve your security, and have an active presence on social media. Another great way to build trust is to participate in community involvement. If you dedicate your resources to the community, you position your business as an organization that values causes outside of making money. Customers tend to trust organizations who help those in need. If they meet your employees at volunteer events or read about your philanthropic efforts on the internet, they'll likely trust you. Once you establish trust, your chances of growing your business becomes very high. People have motivation to turn to your brand instead of a competitor.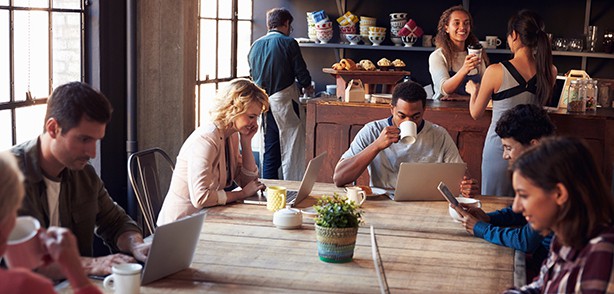 3. Creating A Culture of Positivity
Culture
is the character of your organization. It's what makes your business stand out from competitors. At its core, culture is a reflection of your values, behaviors, traditions, and attitudes. When you have a positive culture, you can attract top talent and retain it. This is a huge benefit as recruiting and training employees costs significant time and money. Employees who are satisfied with their company culture are typically more productive. You can count on them to go the extra mile to ensure your organization succeeds. However, if they aren't satisfied with your culture, you may find that they're less motivated to perform optimally. Promoting community involvement can contribute to a positive company culture. Many employees want to work for a business that cares about giving back. They like being able to take a break from their everyday schedules to support others. If you offer an employee the same pay and benefits as another business but provide a better company culture, they'll be more likely to accept your offer.
How You Can Become Involved In Your Community
There are numerous ways that your
business can support the local community
. Here are some community involvement ideas to help you get started:
Encourage Employees to Volunteer: Dedicate time to volunteering. Let your employees know that you'd like them to volunteer during this period. You can promote a few specific volunteer initiatives or give your employees the option to volunteer wherever they'd like.
Sponsor a Sports Team: Most likely, there are youth or adult sports teams in your community. You can sponsor a team and get some great publicity, as your logo will appear on uniforms. If you want to support your community but don't have a lot of time, this is a great option.
Sponsor an Event: If your community hosts a certain event such as a fundraiser, marathon, or festival, sign up to sponsor it. Also, encourage your employees to attend the event in branded apparel.
Start a Charity Drive: A charity drive can enable you to give back without spending a lot of time or money. Ask your employees to donate books, clothing, canned goods, or other items. Then, send your contributions to a local organization.
Share Your Knowledge: There are likely people in your local community that could use your expertise. For example, if a non-profit needs a web designer but can't afford it, you could volunteer to design their website for free.
Offer Donor Matching: If you have the funds to do so, match monetary donations up to a specific amount and support a local charity. You can design a chart or another visual so that employees can see how much your organization has contributed.
The Takeaways
You don't need a lot of money or time to foster community involvement. What you do need, however, is the desire to help others. If you're creative and committed, you can create a community involvement program that benefits your business, employees, customers, and community. At Fora Financial, we strive to help business owners succeed. Sign up for our newsletter today for more small business tips. [cta-newsletter]