March 17, 2020
The Best Destinations for US Business Travel In 2020
If you're planning your business travel schedule for 2020, you've come to the right place. We've compiled this list of the best destinations for U.S. business travel in 2020.
When You Travel For Business, Comfort Matters
Comfort is a big deal, regardless of if you travel for business or pleasure. However, it's particularly crucial during business trips. Here are some
tips that can help you ensure optimal comfort
when you travel for work.
Book Hotels Near the Airport
Most business travelers stay downtown in the heart of the city. If you'd like a more peaceful environment, find a hotel near the airport. Going this route also increases your chances of scoring free upgrades like late check ins and complimentary breakfasts.
Before you book a flight, pay close attention to the departure and arrival times. If you have a client meeting at 9:00 a.m., for example, a red-eye with an arrival time of 8:00 a.m. probably isn't a good idea. Instead, consider arriving the night before so you're well rested and don't miss the meeting due to a delay.
Be Strategic About Your Carry-On
Checking bags can cost you valuable time and money, so if you're going on a short trip, pack everything you need in your carry-on. You can always buy essentials like shampoo and a toothbrush once you get to your destination.
If you travel for work often, it may be worthwhile to join a lounge club. By doing so, you can swap traditional airport terminals for a comfortable lounge with free WiFi, snacks, drinks, and even showers.
The Best U.S. Destinations For Business Travel in 2020
The U.S. is packed with many exciting destinations. However, some of them are better for travel than others. Let's take a closer look at the best U.S. destinations for business travel in 2020.
Phoenix
Phoenix
is home to a large airport, hundreds of hotels and resorts, and endless amounts of sunshine, no matter when you go. The Sky Harbor International Airport is conveniently located four miles from downtown Phoenix, so it'll be a breeze to quickly reach your destination. Hotel Palomar Phoenix is an excellent option for Phoenix business travelers. It's nestled in the CityScape development of Downtown Phoenix and a popular choice for anyone attending a conference at the Phoenix Convention Center. After you're finished with the business portion of your trip, consider staying a bit longer so you can explore some Phoenix hotspots. Take a tour at the Desert Botanical Garden or hike Camelback Mountain and really take in the beauty of the area. You can also catch a game of golf at Troon North Golf Club, an award-winning golf club course you're bound to love.
San Diego
Its laid back environment paired with its perfect climate and countless new hotels make
San Diego
a great place for business travel. While there are many impressive hotels, a top spot is the Loews Coronado Bay Resort. If you stay there, you can drink your morning cup of coffee and check emails while overlooking the San Diego Skyline. Since the hotel offers 65,000 square feet of meeting space, you can also hold client meetings or presentations there. Just make sure you book a room in advance. To spoil your client (or yourself), make your way over to La Jolla for a sunset dinner at California Modern at Georges on the Cove. This one-of-a-kind restaurant features locally caught seafood and an extensive wine list. If you have some extra time on your trip, be sure to head on over Ocean Beach to explore one of the longest piers in California. Even though public transportation isn't the best in the area, you can rent a car and get around with no problem. If a car rental isn't your thing, you can always rent an electric scooter as there plenty of scooter companies in the area.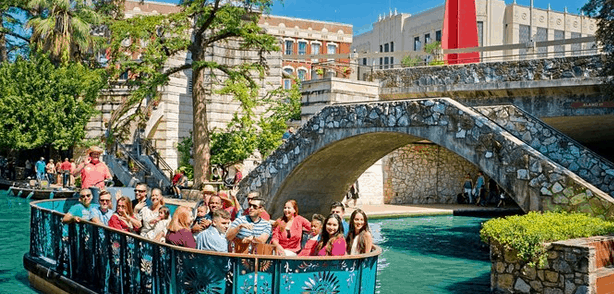 San Antonio
San Antonio
is a happening city that's packed with corporate  travelers. Its comfortable weather and walkable city center make it a prime spot for business conferences. For a great hotel, you can't go wrong by staying at Noble Inns, which is only four blocks from the downtown area and full of elegant hotel rooms and luxury amenities. When you're hungry, visit Schilo's German Delicatessen for a mouthwatering sandwich and home-brewed root beer. If you're with clients or co-workers, go to Big Lou's Pizza and treat yourself to a 42 inch pie. If and when you have some time to kill, head on over to the Alamo, San Antonio's iconic landmark. The Alamo is full of exhibits, interactive tours, and reenactments that can help you envision the battle that took place. If you're a first time San Antonio business traveler, the Alamo is a must. If you don't want to go the rental car route, you can always get around in one of the city's electric scooters or bicycles.
Miami
Thanks to its airport,
Miami
is ideal for business travelers. The Miami International Airport is known for its on-time arrivals, affordable parking rates, optimal transit accessibility, and close proximity to hotels. While the airport is impressive, the city itself is even more exciting. For luxury accomodations and beach access, check out The Edison Hotel, The Gale Hotel, or The 1 Hotel. Although you can stay at a chain hotel, these boutique beachside options can give you the breathtaking ocean views you deserve after a long day of work. When it comes to dining in Miami, there's no shortage of delicious restaurants. If you're in Miami for a business meeting, consider hosting it at River Oyster Bar, which offers just about any fresh seafood dish you can think of.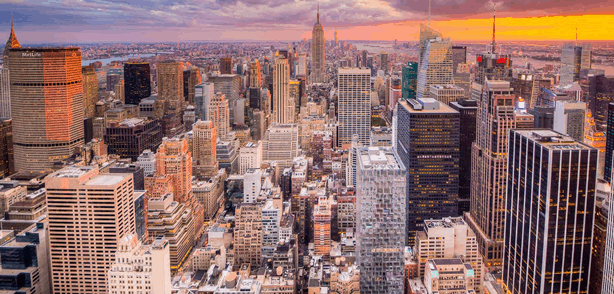 New York City
It's no surprise that the Big Apple is the go-to destination for many business travelers.
New York City
(NYC) has plenty of booming industries including banking, technology, finance, digital media, advertising, and fashion. You're likely to find a conference, trade show, or another relevant business event there, and you won't need a car as public transportation is the preferred way to get around. When it comes to accommodations, we suggest Yotel New York. It's a unique hotel for the tech savvy business traveler. If you stay there, you'll love the Wi-Fi equipped lobby and large outdoor area that's perfect for some much needed fresh air and relaxation. For something classy and luxurious, you can't go wrong with the Four Seasons Hotel, complete with a full-service spa, lap pool, and Wolfgang Puck's CUT restaurant.
Atlanta
Atlanta
has been a popular option for business travelers for years. Not only is there lots to do in this booming city, its hotels, restaurants, and entertainment venues are affordable. Atlanta also features the Atlanta Convention Center, which has 1.4 million square feet of exhibit space. In addition, the airport is only 10 miles from the downtown area. If you're on the lookout for the perfect hotel, the Omni Hotel at CNN Center won't disappoint. It's located in the heart of the city and has ample meeting space. Also, the Omni is only 15 minutes from the airport and boasts a 24 hour business center that's fully staffed during the week. The InterContinental Buckhead Atlanta is another solid choice as it offers computer workstations, printing, photocopying, and delivery services.
Dallas
Dallas
is full of Fortune 500 companies such as Exxonmobil and Southwest Airlines. It also features a world-class convention center with one million square feet of exhibit space. For a quirky hotel in a Chic Dallas neighborhood, Hotel ZaZa is a great option. The Highland Dallas is another option with mid-century decor, comfortable work areas, and of course, free WiFi. You can book meeting spaces and a private dining room for client meetings. After you've taken care of your business responsibilities, it'll be time to take in all the culture and attractions of the Dallas area. Listen to country music and blues at the House of Blues or grab some tickets to a Dallas Cowboys or Dallas Mavericks game. You can also get your shopping fix at the Galleria Dallas or NorthPark Center. Before you leave, check out the GEo-Deck and take in a 360-degree view of the entire city.
Los Angeles
There's no denying that
Los Angeles
is a sprawling city with plenty to do for business travelers. While it may take some time to get used to the traffic (especially during rush hour), you'll love all the sunshine and attractions. For a unique boutique hotel in LA, check out Mama Shelter, conveniently located in Hollywood and minutes away from delicious dinner spots. If you consider yourself a luxury business traveler, the Montage Beverly Hills was made for you. There are tons of private spaces you can use to get your work done. The hotel also offers a 20,000 square foot spa you can go to when you're ready to treat yourself to a massage or facial.
Our Final Thoughts
Business travel can be time consuming and exhausting. However, it's often necessary to grow your business and meet your goals. By traveling to the places mentioned in this article, you can make the most of your business travels and actually enjoy the experience. At Fora Financial, we strive to help business owners succeed. Sign up for our newsletter today for more small business tips. [cta-newsletter]