July 29, 2019
BBVA Business Credit Cards: Our Review
Depending on your spending needs, financial history, and personal preferences, either one could be a good card for the right type of business owner. To help you figure out if one of these cards would be the right fit for your business, we'll review both in this post.
Secured vs. Unsecured: Which BBVA Business Credit Card is Right for You?
If you're interested in applying for a BBVA credit card, you should first determine if you need a secured or unsecured card. The Secured Visa Business Credit Card is secured and the BBVA Visa Business Rewards Credit Card is unsecured. It's important to make the distinction between
secured and unsecured credit cards
, because they work differently and can affect your business's finances. With secured financing, once you open the account, you'll need to make a minimum opening security deposit. Then, you'll be given a credit limit of some percentage of however much you deposit in your account. On the other hand, a traditional, unsecured card requires no deposit and the credit limit is based on your credit history. Keep this difference in mind throughout the review of these two cards.
Secured Visa Business Credit Card
As mentioned, this option is secured, and it requires a minimum opening deposit of $500. Your available credit will be 90 percent of the balance of your account and you'll be able to deposit to your account in $100 increments. As for fees, the $40 annual fee starts in the second year after you open the account. For secured financing, this one has an attractive rewards program, which includes:
 3x points for office supply purchases and 2x for restaurant and gas station purchases.
One point for every $1 in all other purchases.
Flexible redemption options such as cashback, gift cards, and account credits.
Also, even if you have a bad credit history, it's very unlikely that you won't get approved for this card. These loose eligibility requirements make this option especially valuable for any business owner who needs to build credit while earning modest rewards.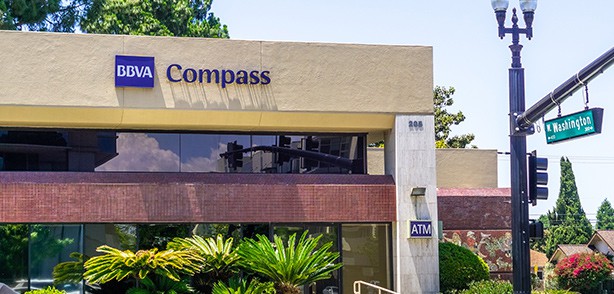 BBVA Visa Business Rewards Credit Card
Since it's unsecured, this card isn't as lenient on eligibility requirements, so your credit score should be fair or better. However, unlike BBVA's secured financing, this one has no annual fee. It also comes with 20,000 signing bonus points if you spend $3,000 in qualifying purchases within 90 days of opening the account. In addition to that, cardholders can:
Earn 3 points for every $1 spent on office supplies.
Earn 2 points for every $1 spent on gas and restaurants.
Earn 1 point for every $1 spent on everything else.
Despite the generous rewards structure, your redemption choices aren't very flexible. You'll only be eligible to redeem your points for gift cards or statement credits. Perhaps the most unique feature of this card is its low intro APR, which varies between 11.49 percent and 25.49 percent. While that's still a high interest rate, it's fairly low for a card that doesn't require excellent credit. Like the Secured Visa Business Credit Card, this option is great if you're trying to build your credit while also earning rewards.
What Else Should You Know About BBVA Credit Cards?
As a BBVA customer, you'll have access to their online services and web accessibility tools. This includes their free eSSENTIAL Accessibility App, which is tailored for individuals who have trouble typing or reading. Another benefit of working with BBVA is that they offer employee cards at no additional cost. Because some credit card issuers charge their customers for extra cards, this perk could save your business money.
Conclusion
Unfortunately, when your
credit score is low
, your options for credit cards shrink quickly. That said, BBVA offers two of the few cards that have both lenient eligibility requirements and solid rewards. Still, like with any financial decision you make, you should take time to read the terms and conditions before submitting your application. If you want to build your credit, either BBVA option could work. Regardless of which card you choose, make payments in full and on-time, and you'll be ready to upgrade to an even higher tier of financing in no time.