January 30, 2020
4 Financing Options For Agriculture Business Owners
In addition, you may benefit from some extra cash so you can hire staff round-the-clock or pay for fuel, utilities, and other day-to-day expenses. Fortunately, there are numerous lenders and organizations that understand the unique nature of an agriculture business. They offer financing options to help you meet your unique goals.
What is Considered An Agriculture Business?
When most people think of an
agriculture business
, farming the land or producing animals often comes to mind. Agribusiness companies typically buy or sell their products to farmers directly or provide them with support services. They involve crop production, agricultural chemicals, forestry, logging, food production, and livestock. Here are a few agribusiness examples.
Archer Daniels Midland Company: Headquartered in Chicago, the Archer Daniels Midland Company creates corn, wheat, cocoa, oilseed, and other commodities for the agriculture industry.
Dow AgroSciences: Based in Indianapolis, Dow AgroSciences offers agricultural chemicals like pesticides as well as seeds and biotechnology.
Monsanto Company: Monsanto Company is located in St. Louis and provides crop seeds, herbicides, and pesticides.
Deere & Company: Known for their tractors, field sprayers, and cotton picks, Deere & Company is headquartered in Moline, Illinois and produces a diverse array of agriculture business equipment.
Since there are more than 2 million farms across the U.S. that cover 900 million acres, there's plenty of opportunity in the agriculture business. The agriculture industry employees hundreds of thousands of workers each year and contributes to billions of dollars in export sales to the U.S. economy. It's
growing at an exponential rate
and will likely become one of the top industries over the next decade.
The Pros of Starting An Agribusiness
If you decide to start an agribusiness, you can enjoy the following benefits.
The Industry Will Always Be Important: The reality is that we'll always need to eat. So, if your business produces or helps farmers produce vegetables, grains, and livestock, it'll likely be in high demand at all times.
Opportunities for Diversification: When you launch your agribusiness, you may grow crops and raise cattle. Over time, however, you may diversify your business by building a bed and breakfast or opening a petting zoo. As long as you're creative and hard working, you can figure out ways to diversify your offerings.
More Time Outdoors: If you own an agribusiness, it's highly likely that you'll spend the majority of your days outdoors. This can be a significant advantage as sunshine and fresh air can do wonders for your health.
Passionate Employees: It takes a hardworking, diligent person to work at an agribusiness. Therefore, the employees you hire will likely have these values.
A Positive Difference in the World: An agribusiness can help people by providing them with the food supply they need to survive. If you'd like a rewarding career that makes a positive difference in the world, it may be a good idea to start an agribusiness.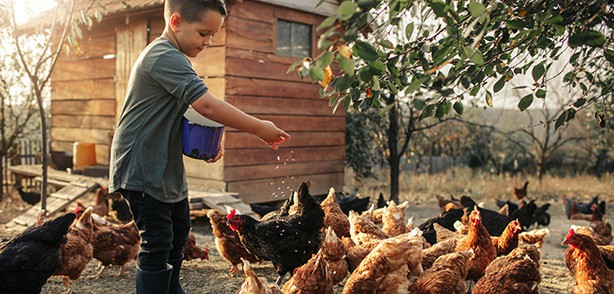 The Cons of Starting An Agribusiness
As with any business, there are some drawbacks of agribusinesses including:
More Risks: Weather, unexpected livestock death, and insect infestations are a few examples of some of the risks you may face. As an agribusiness, you also risk a climate change or natural disaster hurting your business. While all businesses come with their own set of risks, the ones you take on as an agribusiness owner are significant and often out of your control.
Costly Upfront Investment: If you start an agriculture business, you'll need to invest a lot of money initially. This way you can buy all the farm machinery, tools, hardware, and land you need to get up and running. Unless you have the cash to pay for all of your expenses on hand, financing will be a necessity.
A Large Commitment: An agriculture business will require a great deal of your time and attention. You may find yourself working 12 hour days to make sure everything is running smoothly. This may leave you with less time for your family, hobbies, and travels.
Cash Flow Problems: Due to the high startup costs and expenses that come with maintaining an agribusiness, cash flow problems are likely to arise. Cash flow problems can make it difficult for you to pay your employees and vendors on time.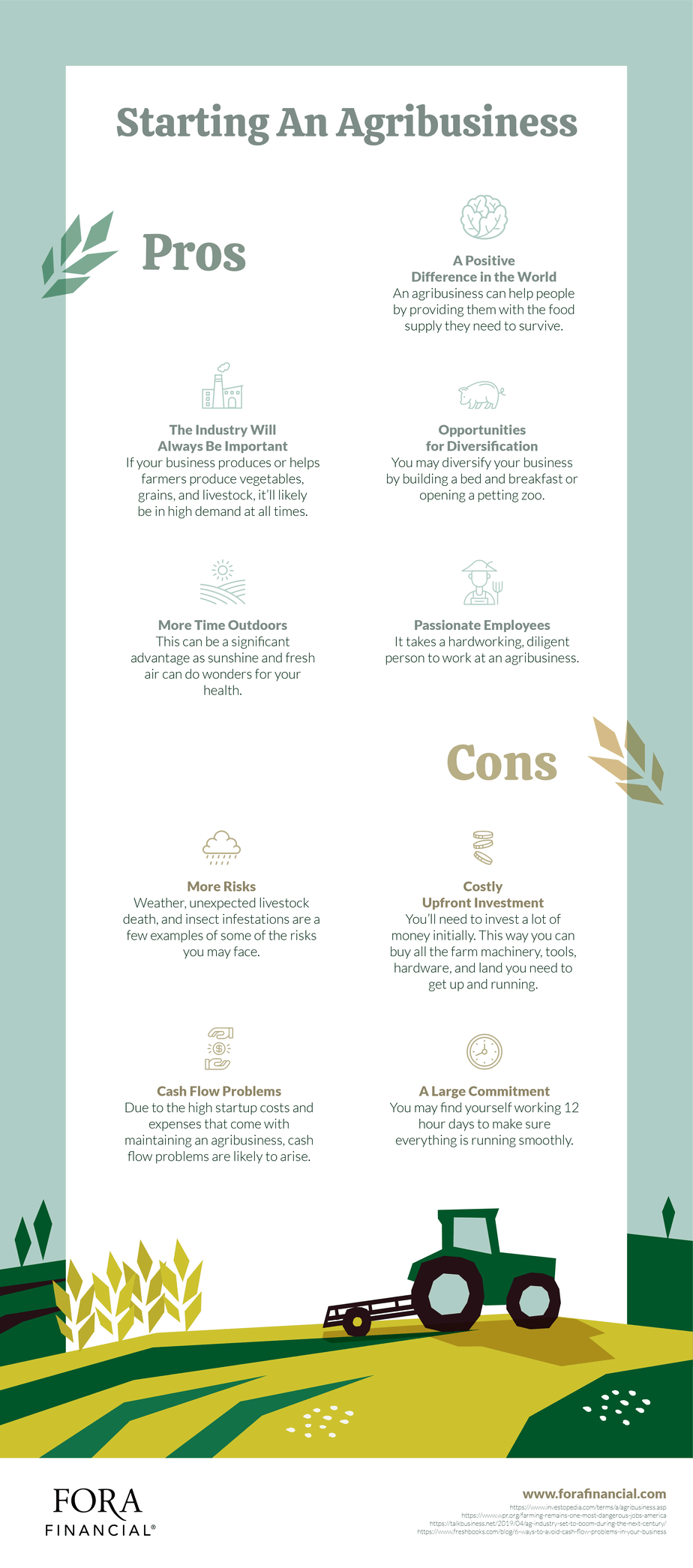 Financing Options Available For Agriculture Businesses
There's no denying that most agribusinesses depend on financing to get started. After all, most people don't have the cash to pay for the expensive equipment and land that is often required. The good news is that there are several lenders and organizations that can lend you money for your agribusiness. Be sure to weigh the pros and cons of each before making a decision.
1. USDA Loans
The
U.S. Department of Agriculture (USDA) offers loans
to rural businesses. Banks, credit unions, and other lenders make these loans to businesses in rural areas. They are designed to promote small business and create jobs in rural areas. In most cases, loan amounts are between $200,000 and $5 million. Although the lender will determine loan terms, the USDA does set maximums based on how you plan to use the money. If you'd like to start your agribusiness in any area other than a city or town with over 50,000 people, you may be eligible for a USDA loan. You can use it to fund machinery, equipment, or supplies. In addition, it can help cover the cost of agriculture production or processing facilities. To apply for a USDA loan, visit a bank, credit union, or another lender that participates in the lender. Once they confirm you're eligible, you'll submit an application directly to the USDA. In addition to the application, the USDA will require a business plan, business credit reports, a current balance sheet, profit and loss statements, and other documents. After you apply, the USDA will approve or deny your loan within 30 to 60 days. If you're accepted, you can expect to receive the money in one to three months.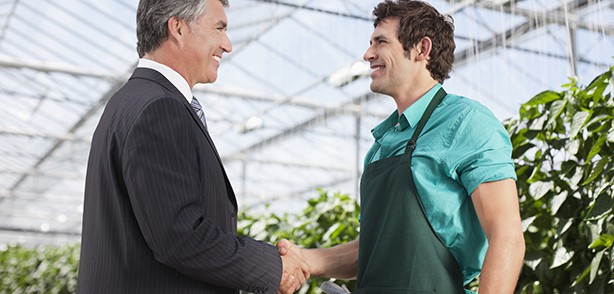 2. Standard SBA Loans
SBA loans
are small business loans that are guaranteed by the U.S. Small Business Administration. The SBA is a federal agency that strives to help entrepreneurs launch and grow their businesses. The SBA guarantees 85 percent of the loans that are $150,000 or less and 75 percent of larger loans. What exactly is a guarantee? A guarantee means that if you can't make your loan payments, the SBA will pay out the guaranteed amount. Due to their high guarantee, SBA loans can be a challenge to secure. You'll likely need a good business credit score and personal credit score to qualify. Since the SBA isn't a direct lender, it'll be your job to find one that offers SBA loans. Most large banks such as Wells Fargo and Huntington National Bank offer these types of loans to agriculture business owners. Be sure to shop around because not all lenders offer the same rates and fees. Once you find a lender you like, you'll fill out an application and provide a number of documents. These will include a business debt schedule, income statement, balance sheet, business valuation, three years worth of tax returns, and more. The approval process usually takes anywhere from 30 to 90 days, depending on the particular SBA loan you apply for and lender you select.
3. Alternative Financing
Here are a few alternative financing options to consider.
Standard Bank Loans: A standard bank loan may be beneficial if you have good credit. However, it's important to note that if you do apply for a standard bank loan, you may have to wait several months for approval. So, if you need the cash right away, you may want to look elsewhere. In the event you decide that a standard bank loan could benefit you, compare all of the offers available to you as every bank has its own rates and requirements.
Business Credit Cards: There are plenty of business credit cards out there to help you finance some of your startup costs. Depending on your credit, you may receive access to tens of thousands of dollars in credit. You can also earn rewards and redeem them for cash, travel expenses, gift cards, and more.
In addition, you may be able to lock in a 0 percent intro APR offer and avoid interest charges for a certain period of time. If you need more money than you get approved for, you may need to select another financing option as well. At Fora Financial, we strive to help agriculture business owners like you succeed. Sign up for our newsletter today for more small business tips. [cta-newsletter]