December 23, 2019
The 5 Best Cloud Backup Solutions for Small Business
Since disaster can strike at any moment,
cloud backup solutions
for small business are essential. Without them, you risk losing important data that takes months or even years to recover. So, what does data loss mean for your small business?
It can take a serious toll on your productivity because your employees may no longer have what they need to perform their jobs. It can also damage your reputation and keep you from meeting your business goals. 
What Are Cloud Backup Solutions?
Backup solutions for small business allow your organization to send a copy of your cloud data to another location. This way, you can restore your data in the event it becomes compromised. Although the two terms are often used interchangeably, cloud backup solutions aren't the same as cloud storage solutions. 
The purpose of a cloud storage service is to save files and maintain version histories. It can allow your employees to share files with one another. A cloud backup solution, however, captures storage snapshots on a regular basis. It makes it possible for files to be restored at specific points in time. 
When you invest in a cloud backup solution, you allow an enterprise to store your data on the internet. This way, you won't have to store your data locally on a hard drive or tape backup. A cloud backup solution is far more affordable and reliable than these common data storage techniques. 
Why Are They Important?
A cloud backup solution is invaluable as data loss can be disastrous for your small business. It can give you the peace of mind of knowing your data will be safe, even if a disaster occurs. Without a cloud backup solution, your business may face a great deal of downtime and miss out on a lot of money.
When your data is backed up in the cloud, you don't have to panic. You'll know exactly where your data is and won't have to store it in physical storage spaces. In addition, you'll be able to automate the data backup process, which will allow your employees to focus on more important things.
How Does A Cloud Backup Service Work?
Essentially, a cloud backup service takes your data and copies it to a production site. Once your data is copied, it's transferred to a remote storage system. If you'd like to implement a cloud backup service for your small business, follow these steps.
Do your research and buy the right cloud backup software for your organization.

Work with your IT department to install the software.

Select which files, folders, and applications you'd like to back up. 
You can customize your cloud backup service to meet your unique needs. Once you do, you won't need to worry about backing up your data. It'll be backed up automatically and continuously. You'll need it even if you have
cyber insurance
.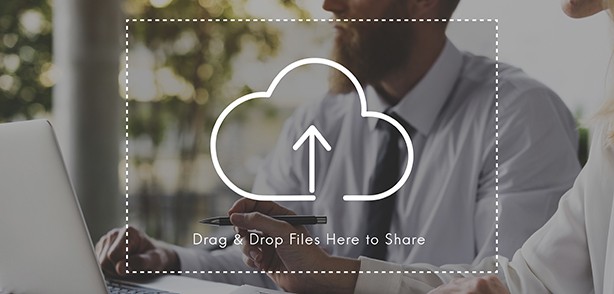 Things To Consider For Your Backup Solution
Not all cloud backup solutions for small business are created equal. Therefore, it's well worth your time to consider all the cloud backup solutions available to you. Here are some
things to consider
when shopping around.
How much storage do you need? 

Are there certain compliance regulations you must meet?

How much do you want to spend?

What type of support do you prefer?

How often do you want your data backed up? 
By answering these questions, you can narrow down your options and make an informed decision. 
5 Cloud Backup Solutions for Businesses
Since there a variety of online backup services on the market, we did the heavy lifting for you. Below is a list of our picks for the best backup solutions for small business owners. Although each option has pros and cons, we believe that all businesses can benefit from them. 
Acronis Backup
Acronis Backup is a flexible and robust data recovery solution. Compared to similar solutions, it offers more options for backing up, restoring, and retrieving data. The interface is easy to use, even if you aren't tech-savvy.
If you invest in Acronis Backup, you'll have access to impressive backup capabilities such as file filtering, multi-level data compression, and the ability to create a full image backup of your computer.
This cloud backup solution is constantly being updated and improved so it can keep up with your ever-evolving needs. When you consider the versatility of Acronis Backup as well as all of the options it offers, it's well worth the money.
Pros
Cost-effective

Easy to install and use

Highly customizable
Cons
Customer support could be improved

Confusing error codes

Slow interface
CrashPlan Pro
CrashPlan Pro is a great option because it comes with unlimited storage and top-notch security. Its goal is to make the data backup process as easy as possible for various types of small businesses. Since this is a "no frills" cloud back solution, you'll notice that it runs quickly and reliably. 
It works well across a number of platforms including Windows, Mac, and Linux. If you're new to the data backup arena, CrashPlan Pro can help you get started without any confusion. Its sole focus is backing up data files so you can count on it to provide you with a recent version of your data at any time. 
Pros
Unlimited backup and computers

Live chat and phone support

Backs up external drives
Cons
Does not backup by file type

Lack of evening and weekend support

No mobile app
iDrive for Small Business
iDrive for Small Business was specifically designed to meet the needs of small businesses. In addition to an unlimited number of users, it offers a seeding service. You can use the seeding service up to three times a year to help you with larger backup tasks. 
If you've never used a cloud backup solution before, no problem. iDrive for Small Businesses comes with round-the-clock support services. You can receive assistance via phone, email, or online chat. 
Also, unlike many cloud backup solutions that put a limit on devices, iDrive for Small Business can perform backups for as many devices as you wish. The solution permits server backups from external devices as well. 
Pros
Backup seeding service included

Excellent customer support

Unlimited users and devices 
Cons
Fees for exceeding data allotted to your plan

Unlimited storage unavailable

No auto updating 
ArcServe UDP Cloud Direct
ArcServe UDP Cloud Direct was created to help small businesses run smoothly. It offers simple setup and management so you can protect your data without hardware or IT resources. You can use it to transfer large data sets automatically without frequent human oversight. 
Since it offers image backups, you can enjoy the peace of mind of knowing nothing has been overlooked. If your data is on the server, it'll be on the server image. It can also save your IT team time thanks to features like advanced change detection and multithreaded transport. 
ArcServe UDP Cloud Direct is the go-to cloud backup solution for many small businesses for two main reasons. It delivers industry-leading backup speeds and 100% recoverability. If you're looking for "one platform with every data protection capability you need, and the complexity you don't," this is it.
Pros
Easy setup

Responsive support team

Cost-effective
Cons
Favors the Microsoft Office environment 

No real bare-metal recovery option

Confusing interface
Carbonite Cloud Backup
Carbonite Cloud Backup allows you to choose from three different plan options to meet your unique needs. This is noteworthy as many cloud backup solutions only offer one plan. Also, Carbonite Cloud Backup makes it easy to backup your files. 
Rather than browsing through the software to select which folders and files you'd like to back, you locate them on your computer. All you have to do is click on them and they'll be added to your backup plan. 
In addition, Carbonite Cloud Backup gives you the chance to backup your files whenever you'd like. Although it'll backup your files automatically any time it detects changes, you can tell the software to run daily or during a certain time frame. 
Pros
Unlimited storage for one computer

Intuitive interface

Guided setup
Cons
Costly for multiple computers

No file sharing and syncing

Can't be used to back up mobile device
Don't Leave Your Data in the Dark
While cloud backup solutions may cost you time and money, they can save your small business from various disasters. As long as you do your due diligence and compare all of the options at your disposal, you're sure to find a great solution for your unique needs. 
At Fora Financial, we strive to help small business owners succeed. We offer tips to help your business keep its data secure and prevent serious problems. Sign up for our
newsletter
today! 
[cta-newsletter]